Membership of Business Intelligence Association (BIA)
As a member of BIA you:
Are invited to the yearly BIA Christmas lunch (prior students are invited as well)
Will have the option to go to company visits and events throughout the year
Are invited to the BIA study trip
Have the opportunity to present what BI students can do at special events
Have a say in the direction BIA should go
Become life-time alumni
The membership fee for a year is DKK 100, which also covers the price for the Christmas lunch.
If one is only interested in the company visits, it is possible to buy a guest ticket for DKK 200 per visit. This could for example be relevant for students taking BI courses as electives.
How to become a member:
To sign up, please transfer DKK 100 to the following account:
| | |
| --- | --- |
| Registration number: | 9570 |
| Account number: | 0012482175 |
OR: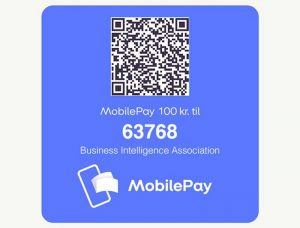 IMPORTANT!
In the transfer statement you have to write: "BIA [Your Name]".
Example: "BIA Jens Andersen".
Please notify Tobias Riisager Dahl once you have transferred the money. He will make sure that the registration was completed correctly.
We, in the board, very much hope that you will join BIA, and be a part of the activities that are being arranged.
The Business Intelligence Association 
If so, write
useful content
an ending that implies the story goes on long after the reading stops