Saturday 15th October: One of my friends presented me with an interesting htm "script" which might be of great use in distributing online survey in special cases, according to him.
Background: He is presently conducting quantitative research at CBS and I'm dealing with the similar subject through the class "Research Methods" here at ASB. We had earlier discussed the lack of randomizing feature in online survey tools, in the special case where you wanted to randomize whole questionnaires but keep the internal questions static. All the tools known to us were capable to randomize the order of questions and even which questions to include randomly chosen from a list. But sending out 1 link, which would direct respondent randomly to a questionnaire from a list seemed to be unfeasible without being creative. The simple answer would be to make the 5 different questionnaires and then distribute the 5 links and dream of similar response rate between the different versions. The so-called simple answer does implicate the important question "how do you distribute the 5 links evenly in your sample, without having to enter the realm of time consuming and rather impractical sampling considerations?" Both of us were working in a group of 4 and were forced to settle with convenience samples given the constraint of time and other resources. Returning to the initial reason for this post… the script. The idea is the following (discarding the technical blablabla):
I send out a link -> a potential respondent clicks on the link. The link itself is not the destination but merely an access point to a "hub" from where the unknowing respondent will be randomly redirected to one of 5 links (the direct links to the survey). The process is similar to when a webpage restructure its content (changing the architecture) and need to redirect old links to new ones in order to retain positions on Google Search Engine Result Page. The theoretical process is graphically represented in the attached picture.
Now we finally arrived to the point! Does it actually work and "how random is truly?". To test this I will attempt to ask the class to participate by pressing the link in the bottom. The result should be the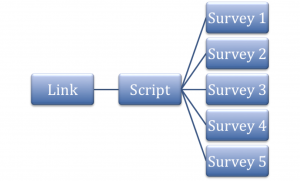 following:
http://asb-bia.dk/wp-content/uploads/[1-4].html
The first part is irrelevant since it it's just the address. One needs to focus on the number in the end that in this trial will be dividing the sample into 4 groups.
PART II will show the findings:
Hbo now is exclusively available on the apple tv, iphone and ipad for $14