Last morning at Jaipur Heritage Hotel and we started the journey to Agra 8:30am. It was apparent that local food and air condition had claimed its victims as several members showed signs of slight discomfort in the shape of colds and nausea. Thus, the expected 5 hours drive were utilized for relaxation and recuperation.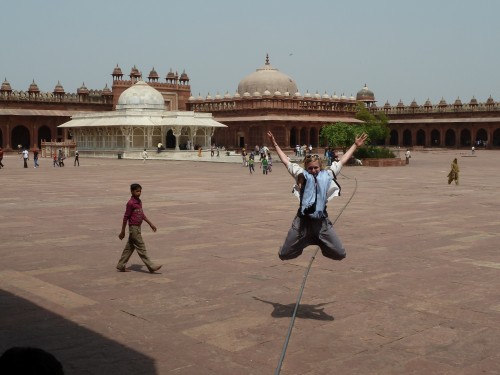 The first attraction of the day was the ghost town of Fatehpur Sikri, which was the capital in the late 16th century. The reason why the city became a ghost town was in short due to poor water conditions. We did not experience much ghost town as it actually seemed rather crowded on our way to the mosque. There is no doubt that this place is highly influenced by the fact that the mosque is open to the public, which implicate a sizable vendor-corp. The temple was apparently known for being a place people would come to pray for getting children and several prominent people had paid their respect on this regard. We skipped seeing the actual palace and left for the Hotel.
One can read more details about the site on: http://en.wikipedia.org/wiki/Fatehpur_Sikri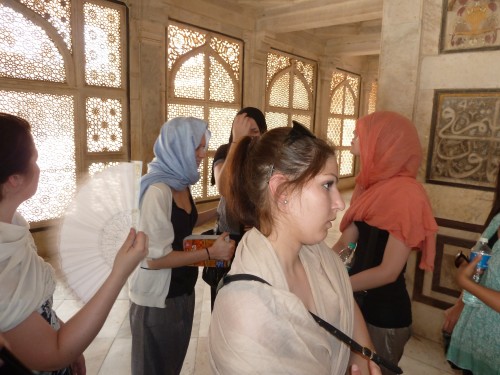 Our new guide picked us up and brought new energy to the group, starting with jokes that at least amused the female participants of the group. We have all looked forward to see Taj Mahal, recognized as a "wonder of the world", and the spirit was clearly lifted amongst us. The impressive building was finished around 1653 and was dedicated to the late wife of the Mughal emperor. We saw the sarcophagus of the emperor and his wife, which were centered inside the main building and afterwards lingered around the complex taking, what can only be described as excessive amount of pictures. The view was fantastic and greatly supplemented with the special atmosphere surrounding the whole area. We regrouped and left the area as the sun slowly faded on the horizon.
One can read more about Taj Mahal on: http://en.wikipedia.org/wiki/Taj_Mahal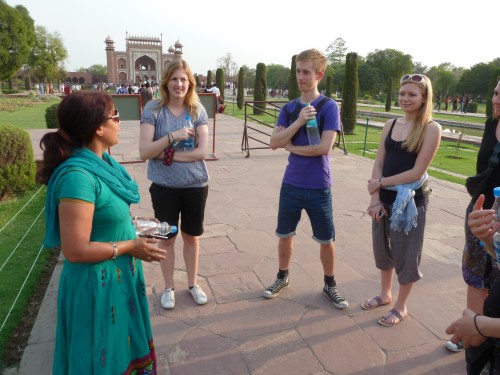 After leaving Taj Mahal we were driven to the mandatory local handicraft shop with jewelry and souvenirs. What caught our initial attention were the signs stating the shop was ISO 9001:2008 Certified for gold and jewelry, which was quite surprising given the normal standard. Later we realized they had misspelled jewelry and the signal of trust diminished. They did actually have the official documents but still rather humorous. Initially, we weren't in the mood for shopping and were actually quite hungry as a group, but local gems made their impression and we indulged.
A late dinner completed an exciting day and back to the hotel.
The document abstract explains, in this investigation, the effect of the
domyhomework.guru
flipped classroom and associated differentiation was studied to measure the impact on student achievement and student stress levels