The next morning we woke up early in the morning and had breakfast served in the hostel. The breakfast consisted of toast, yoghurt and bananas, and was served by a big Russian momma, who did not care about hygiene, so she contin- ued to blow her nose while toasting the bread! After breakfast we went outside and saw the hostel for the first time in daylight – which was not a mitigating ex- perience, as you can see on the next picture. But the hostel gave us a roof over our heads at night, and was located quite central and was very cheap.
Then began our first quest in finding the subway, buying tickets and locating the right direction to get to our first company visit at Lundbeck. Right away we were amazed by the magnificent metro that is famous for its beautiful stations that were often covered in marble all over.
At Lundbeck we were introduced to their General Manager called Vadim Bele- vitskiy, who told us about one of their performance management projects. The project concerned evaluation and performance assessment of their employees, and was developed by the Aarhus company Ennova. Vadim also helped us get tickets to the upcoming soccer match between CSKA Moscow and FC Spartak Moscow, which was playing Saturday.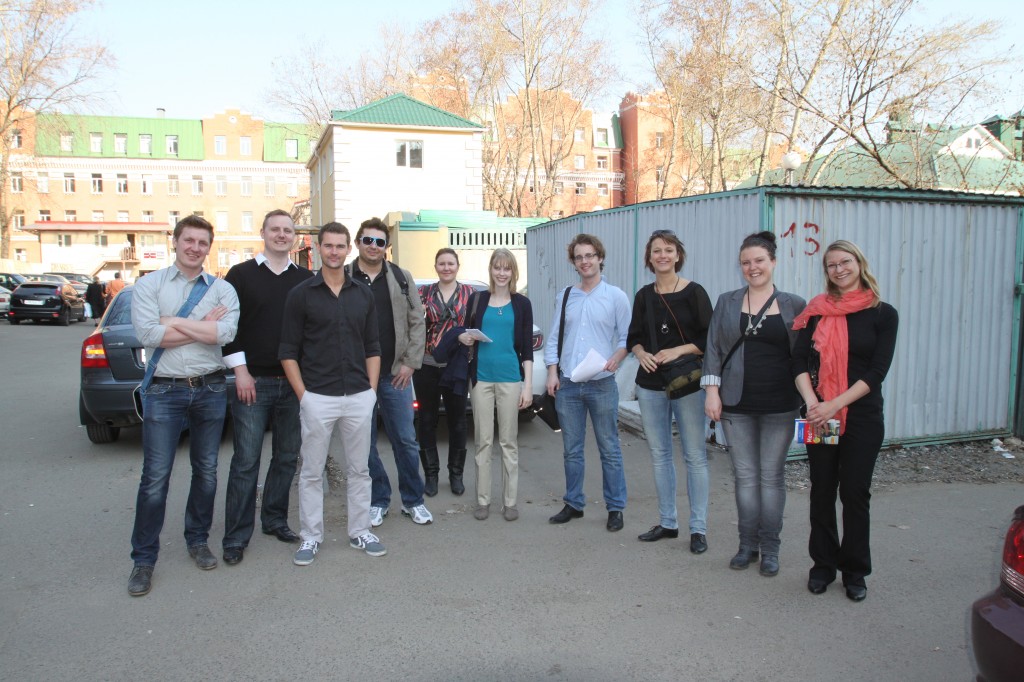 The next company we visited Integrated Trade Marketing (ITM), which was run by a Danish man called Lau Geckler. Lau introduced us to how the company was doing market research and how data was gathered. Lau also told us general stuff about Russia and Moscow. He told us what restaurants to visit and sights to go see. He also told us about the mentality of the Russians as well as work politics and ethics – we especially found it interesting that Russians have a very relaxed attitude towards alcohol, and that beer is considered a soft drink that can easily be consumed on the way to work in the morning.
In the evening we all went for a long walk where we tried to locate a Ukrainian restaurant that Lau had suggested we should go to. On this trip we saw the rush hour traffic and realized that driving, and parking, in Moscow is a nightmare, as you can see in the picture. Parking was something they just did, no matter where they were. In the pedestrian crossing, in the inner lane of a four-lane road and they even made two rows of parking on a road – without having any concern of the cars in the inner row.
However we did not locate the restaurant so we ended up in another one. The waiters were all really kind, and there were a lot of them, almost one for each of us. We were all pretty beaten, and the menu was not that extravagant, so most of us ended up ordering pizza. Big mistake! The restaurant only had one pizza oven, meaning one oven for one pizza, so it took them quite a while to serve us all. And as you can see – only one had gotten food when we took the group photo.
After dinner we went to a sports bar to watch the big Champions League match between Barcelona and Real Madrid. We got ourselves a few cocktails and beers, and hit the sack after the game.